An interview with Dan Dumsha & Rosemary Morrison from Tightrope Theatre:  Can Laughter be the Best Medicine? Improv for Parkinson's says YES, And! on October 24, 2023 by George Ackerman, Ph.D, J.D.
Please tell me a little about your background.
Dan Dumsha is a prominent figure in the world of improvisational theater, known for his passion for creating safe and nurturing spaces for individuals from all walks of life to express themselves freely through the power of improv. A graduate of Queen's University, Dan holds a Bachelor of Education and began his career as a high school teacher before moving to Vancouver. Dan has dedicated his career to using improv as a tool for empowerment and self-discovery. As the President of the Queer Improv Society of Vancouver, Dan has been leading improv communities for over 20 years, and has studied with UBC and Annoyance Theatres in New York City, where he founded the Dirty Little Secrets Improv show. Dan was a mainstage performer at Vancouver TheatreSports for 7 years before co-founding Tightrope Theatre in 2019 to advance the artform of improvisation. As the Director of Improv for Wellness, Dan has designed and delivered improv training for those with Parkinson's Disease, General Brain Health, those who stutter, those with Alzheimers and Dementia, caregivers, and more. Dan is also active in the corporate learning space as a consultant, facilitator and coach in the area of communication.
Can you tell me more about your advocacy?
My advocacy revolves around using improvisational theater to enhance the well-being of individuals, particularly those with Parkinson's disease. We aim to bring the opportunity to try improv and use the skills of improv to every person who is diagnosed with PD, regardless of their financial barriers.
What is your passion and how did you get involved in Parkinson's awareness and hope for a cure?
My passion is rooted in creating safe and nurturing spaces where people from diverse backgrounds can freely express themselves through the transformative power of improv. My journey into Parkinson's awareness began when I witnessed the positive impact of improv on individuals with the condition. It was a revelation that sparked my commitment to utilizing this creative outlet as a means of support and empowerment. My husband is a Movement Disorders Neurologist, and he sparked the connection to start working with his patients.
What type of goals do individuals with Parkinson's have when working with you?
When individuals with Parkinson's work with me, their goals often include improving motor skills, increasing self-confidence, enhancing communication abilities, and building a sense of community. Ultimately, it's about regaining a sense of control and joy in their lives despite the challenges of the disease.
What type of training and how long are the programs?
We offer 3 levels of improv for Parkinson's training.
Improv for Parkinson's Level 1 is a 6-week course designed to introduce students with Parkinson's disease (PD) to the foundations of improvisation and apply improv skills to life with PD.
The next cohort of Level 1 will run on Thursdays from 12:30 pm – 2:00 pm PT on Zoom!
Registration is FREE thanks to the sponsorship of Parkinson Canada:
https://www.eventbrite.ca/e/644044453297?aff=oddtdtcreator
For students who have taken our level 1 class, or have equivalent improv experience, we offer Improv for Parkinson's Level 2. This course will expand upon skills learned in level 1 and introduce new skills for students to apply to life with PD.
Level 2 begins Saturday, November 4th and will run on Saturdays from 12:30 pm – 2:00 pm PT on Zoom.
Registration is by donation: https://www.eventbrite.ca/e/644063189337?aff=oddtdtcreator
For students who want to continue advancing their improv skills beyond Level 1 and Level 2, we offer Canada's first-ever PD Performance Troupe! The troupe practices regularly with a coach and performs in showcases on Zoom and in-person!
What effect can your advocacy have on an individual with Parkinson's?
Improv for wellness can have a profound effect on individuals with Parkinson's. It can lead to improved physical coordination, increased self-esteem, better communication skills, reduced anxiety, and a sense of belonging. It offers not only a reprieve from the challenges of the disease but also a path toward a more fulfilling and active life.
What would you like to see as a future goal for your advocacy?
My future goal is to expand the reach of improv for wellness, making it accessible to more individuals with Parkinson's worldwide. I aim to foster greater collaboration with healthcare professionals and institutions, integrating improv as a recognized therapeutic tool for those with Parkinson's disease.
What events do you participate in?

I participate in a variety of events, including workshops, seminars, and conferences focused on Parkinson's and wellness. I also host and collaborate in improv classes, performances, and fundraisers to raise awareness and support for Parkinson's causes. The current focus is on our level 1 and 2 Improv for Parkinson's classes and our PD performance troupe.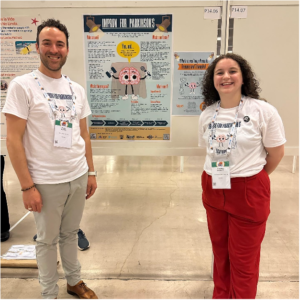 How does your advocacy also assist the caregivers?
Caregivers play a vital role in the lives of those with Parkinson's. My advocacy aims to provide caregivers with tools and resources to improve their own well-being and enhance their ability to support their loved ones. By participating in our programs, caregivers can also find stress relief, build connections, and gain a better understanding of the benefits of improv for those they care for.
How can someone get in touch?  What is your website?
To get in touch with me or learn more about my work, you can visit my website at www.tightropetheatre.com/wellness-classes
You can also contact Rosemary, our Improv for Wellness coordinator through the website to inquire about workshops, programs, or collaborations or at rosemary@tightropetheatre.com
How can others also become advocates for awareness?
To become advocates for awareness, others can start by educating themselves about the challenges faced by individuals with Parkinson's and the benefits of improv and other creative therapies. They can volunteer, support organizations, or join local initiatives aimed at improving the lives of those affected by Parkinson's. Spreading awareness through social media and engaging in fundraising efforts are also impactful ways to advocate for this cause. Coming to a showcase (virtually) or helping us spread the word about programs are helpful and of course donations to help us subsidize and continue this work.
How can we measure the effectiveness of improv for wellness programs in the context of Parkinson's disease?
Understanding the tangible benefits and outcomes of such initiatives is crucial for furthering their acceptance and integration into healthcare practices. We are currently studying the benefits of the program.
In your opinion what is the key to effective advocacy? 
 The key to effective advocacy, in my opinion, is passion, persistence, and the ability to adapt and innovate. Advocates should genuinely care about the cause, be willing to face challenges head-on, and continuously seek new ways to create meaningful change.
If you had one final statement or quote you could leave for the Parkinson's community, what would it be?

"In the world of improv, every step is a leap, every word is a story, and every smile is a triumph. Together, we can improvise a brighter, more joyful future for the Parkinson's community."